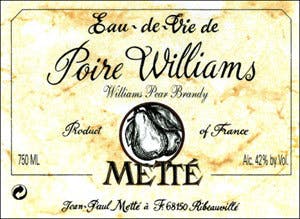 SKU: METTEPOIRE
Jean-Paul-Metté Poire Williams
---
---
The Williams Pear, known in the United States as the Bartlett Pear, is an extremely aromatic variety. The fruit has a traditional bell shape and is considered a summer pear, not as tolerant of cold as some varieties. Optimum conditions for ripening are in dry shady areas; its green skin turns soft yellow and the pulp softens 7 to 10 days after the pear is picked. For the Poire Williams, Metté has worked with the same fruit grower for years in the northern Rhone near Valence. The fruit is picked and stored in small wooden boxes (5 kg maximum) to allow for further ripening. These small cases allow the fruit to mature at the same time. Overly bruised and rotten fruit is discarded. The fruit is crushed and put in fiberglass tanks where its fermentation begins. No sugar or yeast is added and the fermentation proceeds naturally. The sugar and yeast interact during the eight week fermentation that produces an alcohol around 4.5 to 5%. The liquid is racked to remove the fat lees and the dry perry, still on its light lees, is ready for its next transformation.
All sizes are 750mL unless otherwise noted.
Pricing, availability, vintages and ratings subject to change at any time.